Nice Kart -well taken care of.
2 seasons of racing before I bought it in 2017. My kid ran around a few times over a couple years and the kart has been parked since.
Just fired it up. Still runs strong.
Good life on tires.
Currently has pedal relocation kit and small seat for younger rider.
I have the the parts to move pedals back for larger rider and also have a larger seat.
Includes rolling stand, stationary stand, and old but functional starter.
Air box has a crack in it. Will need a new one.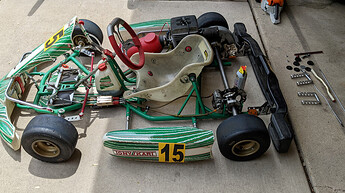 Asking $1500
Tom